Are you a teacher or community worker? Are you looking for exercises to help your class understand what refugees go through in Scotland?
Unity Sisters and Govanhill Baths Community Trust Community Action have published a fantastic educational resource to help build understanding of the issues faced by new Scots.
A companion to the short film No Radio Silence, the e-book aims to support teachers and community leaders in delivering meaningful group activities around the issues faced by refugees and people in the asylum system in the UK.
The activities in the booklet include:
Watching and discussing the film No Radio Silence
Exploring the theme of Leaving, the decisions made and risks taken
Researching what Travelling means to you, and what this looks like for people who travel to the UK for refugee protection
Understanding how people arrive in the UK and how they are treated
Exploring the theme of Survival and understanding the conditions people live in in the asylum system
Building understanding of how communities can support people who have sought safety here
Rethinking the questions you might ask somebody who has newly arrived in your community
Most of the topics within this resource can be matched with the Scottish Curriculum for Excellence, and the activities can be adjusted to the class level, from P6 to S6. The booklet can also be used for discussions in community groups.
As the Scottish Government reviews their New Scots Integration strategy, 'No Radio Silence' is a vital tool for welcoming new Scots into communities built on understanding, solidarity and shared humanity.
How to read No Radio Silence
No Radio Silence: Human Rights for New Scots educational resource is available via this link. There is a read-to-me function for accessibility.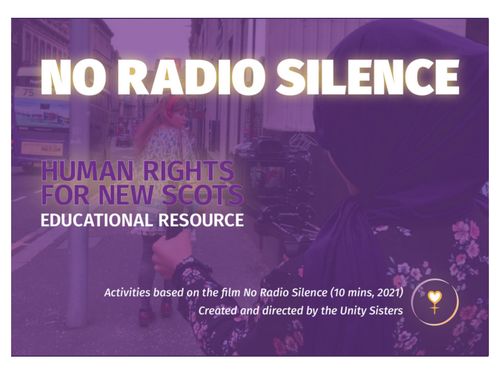 You can also download the book as a PDF.
The resource was produced as part of the 'Our Rights, Our Communities' project, with the support of Clare Harker, Headteacher of St Albert's Primary (Glasgow). The project is funded by the New Scots Integration Delivery Fund.
Watch: 'No Radio Silence', 2021.
The Unity Sisters, with support from Govanhill Baths Community Trust and under the mentorship of filmmaker Bircan Birol, created and directed this short film.
This is part of the Sisters' process of reclaiming the narrative over what being a New Scot really means, with the intention of creating understanding, connection and integration.
This project is part-funded through the European Union Asylum Migration Integration Fund. Making management of migration flows more efficient across the European Union.
Communities